I had missed the first 2 deer I got a shot at this year, one with a bow and one with a gun.
I went to the panhandle for a Thanksgiving hunt with my granddaughter. It was a 4-day hunt but she only wanted to hunt on Thursday and Saturday so she could go "Black Friday" shopping with her mother.
I went to the area on Wed. and set up a blind and we began hunting at dawn on Thursday morning. I don't like hunting from a blind unless it's a small area because long straight stretches make it almost impossible to tell how far you're shooting or where to start looking for blood and hair if you shoot waaay down there. 
This is the view I had looking down a 400 yard long cut:
At 8:20 a doe came out way down there. I stopped her with a shouted, "Baaaaa". She froze and I shot almost at the top of her back with my .25-06. She didn't even flinch so I thought I shot over her and shot lower. That got her attention and she turned and ran back the way she had come. Five seconds later either she or another doe popped out at the same spot but turned and bugged quickly.
We walked every thinned "alley" to the left until we reached a river about 1/4 mile away. It was obvious that I had missed because there was no blood nowhere. We went back and sat another hour but that was that.
My 11 y.o. grandaughter tried to give me an acceptable excuse for her green hair.
"Poppa it's to make me more camouflaged."
I didn't buy that story.
Here's her camo new look: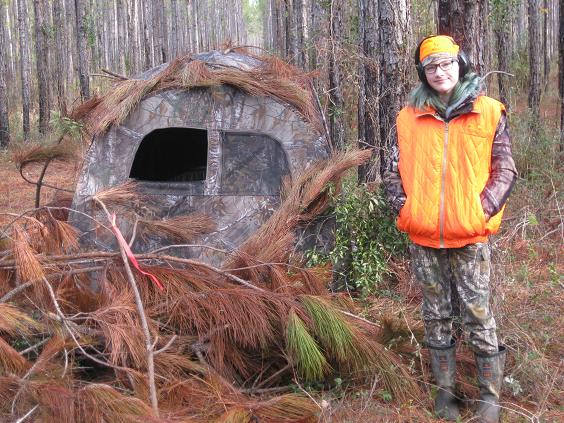 That night I ran into an old friend and he invited me to his lease to hunt since my granddaughter was going to shop. I was out there the next morning sitting on a hanger stand 22 ft. up overlooking a 30 acre 3 y.o. cut:
After the fog lifted I saw a doe headed from the tall pines in the background to an opening on my right. I stopped her at 85 yards and shot. She zig-zagged into the thicker growth behind me and disappeared.
I got down after 20 minutes and found a few tiny specs of blood where she stood when I shot, then the blood played out and I had to bash into the thicket where I thought she went. After 5 minutes of grid-searching I found LOTS of blood and followed it another 35 yds. to where she had dropped.
This side shows the exit point: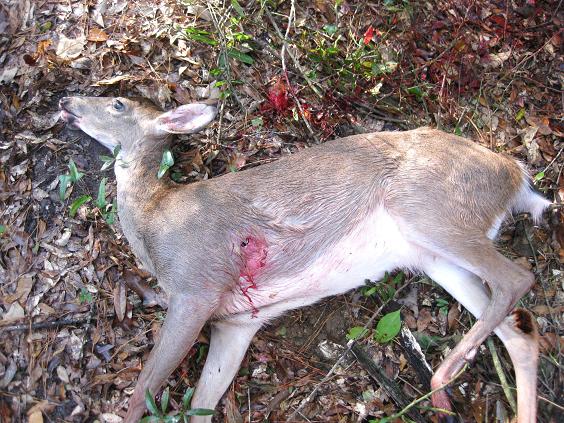 I turned her over and barely could see the entrance:
My truck was incapacitated so I had to stuff her into the back of my wife's Explorer after placing garbage bags over everything so I didn't get blood on her upholstery.
I spent the next 2 hours gutting, skinning, cutting and bagging meat .. and I was glad to be doing it.
I have another hunt this coming Friday. I hope the jinx stays broken until the end of February.