I took my CVA SxS and my 12 y.o. dog back to the pond just before sundown. There were 2 hooded mergansers on it. We (I) belly-crawled to the edge and flushed them. I shot the male with the right barrel and he went down into the water. Hoodies are really hard to kill so I waited until he came up for air and then covered his head with the left barrel. Luckily, one pellet hit him in the head.
My dog had been antsy since we flushed them since this was only the second time this year we were after ducks. (She really likes to duck hunt.) I gave the word and she dove into the cold water and retrieved him. By the time we got back to the house and a camera, it was dark.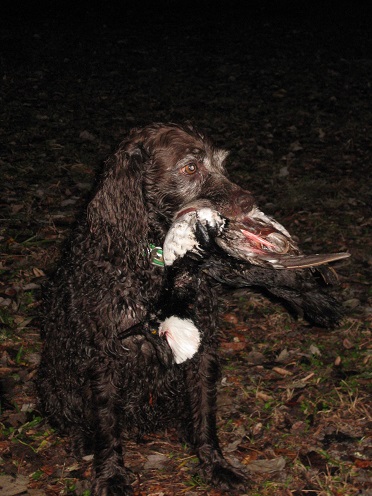 You can tell that she likes the taste of wet ducks. 


_________________
Bob

"My reading of history convinces me that most bad government results from too much government." -Thomas Jefferson