I've been occupied with a consulting project for the last month or so. It will culminate toward the end of May.
I try to keep up with the topics here on a regular basis, but only have contributed a post now and again. I haven't been at a shooting range for some time. That will change when the project concludes.
It was necessary to put on my thinking cap: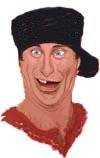 It is nice to be involved with something productive during retirement!
Ron

_________________
RonC

Outside of a Dog, a Book is Man's Best Friend. Inside of a Dog, It's Too Dark to Read. Groucho Marx (or possibly someone earlier)