A little off topic but a great story for the boys.
Here's a true story that happen just this past year in the Littleton, Colorado area, not the usual Columbine shooting thing - over and over again.
I was reading the local paper a total of 7-8 pages from the front I spotted a small article about a Hair Saloon being robbed around 6:30 PM. I took a second look at the address, hell that's the wife's place she goes to. The article didn't give much detail other than the bad guys where white in their late twenties.
When the wife goes for her haircuts, trims, I usually sit in the truck and watch the young ladies go in and out of the shop, a pleasing past time and with the dark windows you don't get the dirty looks.
Well tonight I had to go in to hear about what happened the night of this event, the young lady at the counter was more than willing to tell her exciting tale.
Here's what happened: There were about a half dozen gals counting the ones that work there, busy with whatever they do in these places when two white males wearing sunglasses come into the place. They sit down watch what's going on then pull guns (still sitting) and have everyone line up in front of them, they collect all the money and credit cards, then the good part.
These young gentlemen are thinkers; they have the whole group disrobe, putting their clothes on a sheet. They have everyone stand in a group and bring out a digital camera and take a few pictures. They thank all the ladies, gather up the money, credit cards and the clothes and walk out.
The young lady said "the first thing they did was lock the door, turn out the lights and hide behind the counter". Finally someone says "call the cops", but they decided to call their spouses first for clothes then call the police.
She said after being clothed and the police came, they had decided the insurance would cover everyone's losts and when questioned gave a very bland description of the holdup men. She said "they were worried more about the police getting hold of those pictures, than those guys being caught".
Damn it a day late and dollar short again.  

_________________
.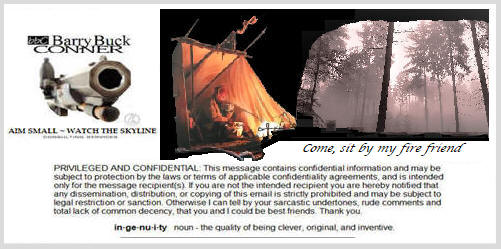 .