.
Old friends from the Gun Library ask for help every few months, they're very knowledgeable on most items that come through the doors. Once in a while they want another opinion then I'm called.  Here's one from a few months back and more toys today.
_____________________________________________
Cabela's 06.14.18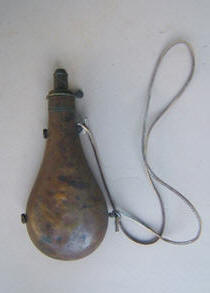 A MID 19TH CENTURY ENGLISH PLAIN COPPER POWDER FLASK, ca. 1850: 
Of typical Mid-19th century very good quality (Sheffield) manufacture with a heavy gauge, smooth, untouched copper body. The top of the flask with its brass pouring-spout with three (3) steps and its internally mounted spring-operated powder cut-off. The base with a "J.W. HAWKSLEY\SHEFFIELD" maker's mark; cut-off spring broken. In overall very good untouched condition. The body with dark copper surfaces with all four (4) of its iron (rusted & pitted) suspension-loops, fine seams, scattered abrasions, minor dents and the expected signs of use\wear. 
 Powder Flask, by Hawksley, ca. 1850. Overall measurements, 9 1/2" x 5". 
Value $150.00-$165.00
_____________________________________________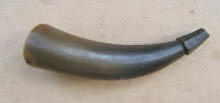 AMERICAN PISTOL-SIZE PRIMING/POWDER HORN w/ HAND-CARVED POURING-SPOUT, ca. 1800: 
In untouched condition. The dark brown/green/tan colored cow horn body with a fine natural curve, a finely chip-carved pouring-spout. Complete with its pin-fastened, flat/flush-fitting, hardwood (Cherry?) base-plug. In overall fine untouched condition with light signs of use and wear and minor scuffs: the base with matching untouched smooth surfaces. A nice example of an American Pistol-size Priming/Powder Horn, ca. 1800. Overall length, 7". See similar examples, - Neumann & Kravic's: "Collector's Illustrated Encyclopedia of the American Revolution".
Value: $85.00-$100.00
_____________________________________________
Cabela's 10.11.18 
Today an older gentleman had these toys to show me, had only seen pictures of a 
Cossack (Russian) Miquelet Pistols until today
.
 The Library guys said I would enjoy this fine.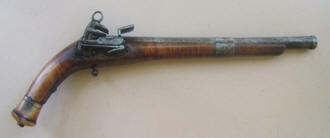 COSSACK (RUSSIAN) BURLWOOD STOCK BALL-BUTT MIQUELET HOLSTER PISTOL, ca. 1780-1800: 
In untouched, original flintlock condition. Fine quality, band fastened, Native-made, watered steel, .55 caliber, smoothbore, 12 1/2", cannon form barrel with a chiseled breech-top, a wedding-band transition and a raised sighting rib: the muzzle with an engraved baluster type "cannon" flare. Classic Cossack type, finely sculpted and stylized, Miquelet lock/mechanism with its rectangular-jaw hammer/dog with its original ring-type jaw-screw. Exposed mainspring and grooved-faced, squared-back frizzen of classic form. In overall fine original "flintlock" condition. The barrel and lock with matching, smooth, untouched, steel-gray surfaces, some patches of discoloration and staining. Some minor abrasions and expected signs of use and handling. Retains approx. 80% finish with nicely sculpted contours. A fine example of classic Russian (Cossack) Miquelet Holster Pistol, ca. 1780-1800. For similar examples see Claude Blair's: "Pistols of the World", pg. 84 (plt. 810-812). 
Had to copy this information out of an 1933 Bannerman & Sons Catalog and guess the valve.
Value $3,000 - $4,000
_____________________________________________
Have handled these several times when still in PA and NY, farmers were always plowing them up.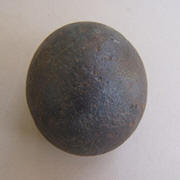 FRENCH & INDIAN/AMERICAN REVOLUTIONARY WAR PERIOD 
4 lb. SOLID-SHOT CANNON BALL, ca. 1750
:
In overall very good sound untouched condition with the oxidized surfaces from internment. Of typical solid shot configuration and approx. 3" in diameter. In untouched condition with the expected light to moderate surface pitting and an untouched chocolate-brown age patina. Some traces of dirt in the pits and various minor abrasions. A nice, authentic F & I/Revolutionary War Period 4 Pounder Cannon Ball, ca. 1750.
Value $200.00-$225.00
_____________________________________________