A Program Snap
This is the third time I have served as a volunteer instructor at this event. I am always with the black 
powder guys from the Central Florida Muzzleloader Club as this is my home range. Black powder shooting has always been successful at Ladies Day. There is always steady and sometimes robust interest. 
The CFPRC Ladies Day itself has grown into a major thing with nice numbers of participants and nice 
business sponsorships:
*Kel-Tec *Glock *Sig *The Armories *National Shooting Sports Foundation*Bushido Tactical*Legacy Sports International*Gun Goddess*Bass Pro Shops*Otis Smart Gun Cases*Trojan Horse Solutions*Premier Firearms Training*Rainforest Cafe*Balmshot 
And, likely some I have missed. 
There were many give aways- including some very nice weapons. 
(All laws were complied with)
*
Sig Sauer P238
*
Kel-Tec CP33
*
3 Glocks
*"
a one of a kind, custom engraved Pointer Over/Under 20g shotgun with the 2019 Ladies Day logo."
*And more whose names I failed to capture... There were a LOT of very nice things and a lot of distractions
There were also stuffed bags and back packs full of sponsored goodies. (I actually WON one to my great surprise)
Hundreds of women turned out in force (tickets sold out again- hard) to try their hand 
at a wide variety of shooting sports options in the range berths on the grounds.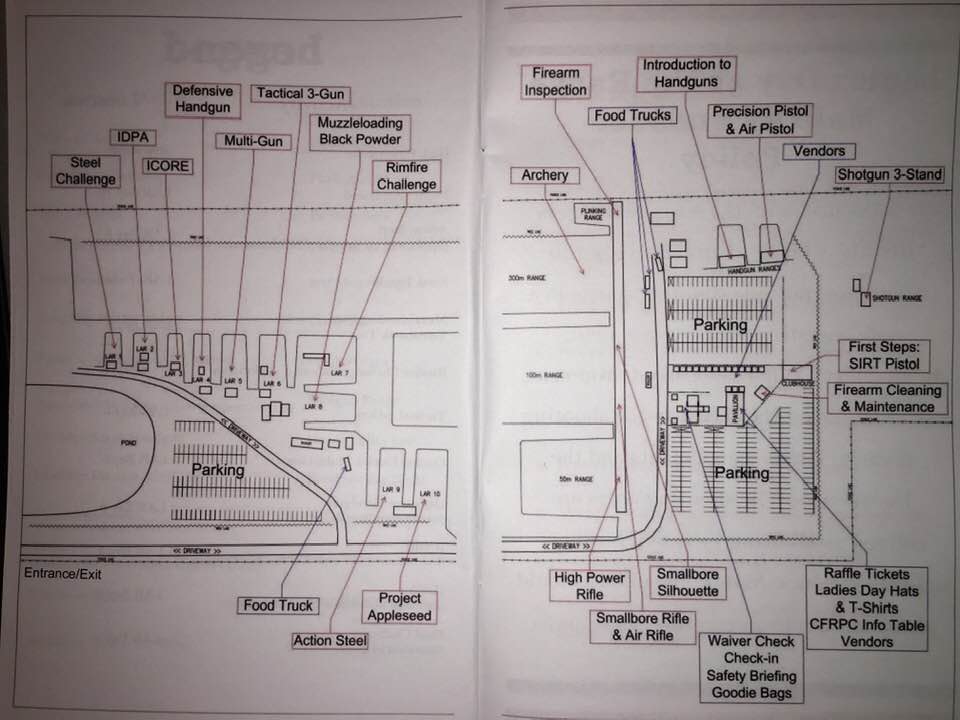 Partial Site Map
The muzzleloaders were in Berth 8. We had some nice benches with shooter's boxes and ranged targets.  
We had tables set up under a small tent for displays: rifles, pistols, books, hides, woven belts, possibles bags, and more. 
And, there was a surprise this year. A Tomahawk Throw was added. 
One of the guys (Herb) built a nice target and stand. Fellas, we were taken off-guard. We got SLAMMED. 
That hawk throw was the hottest ticket around. Our area was crammed NON STOP. Some women waited in 
line for over an hour for the chance to be coached and get to throw a hawk. It was nuts. I never fired a shot. 
I was re-purposed to teaching axe throwing with Herb.
This is the only shot we have as a group. It was the last time we were able to stand still together before the lines began. The eager lady on the right was our first axe customer.
Central Florida Muzzleloaders Club Volunteers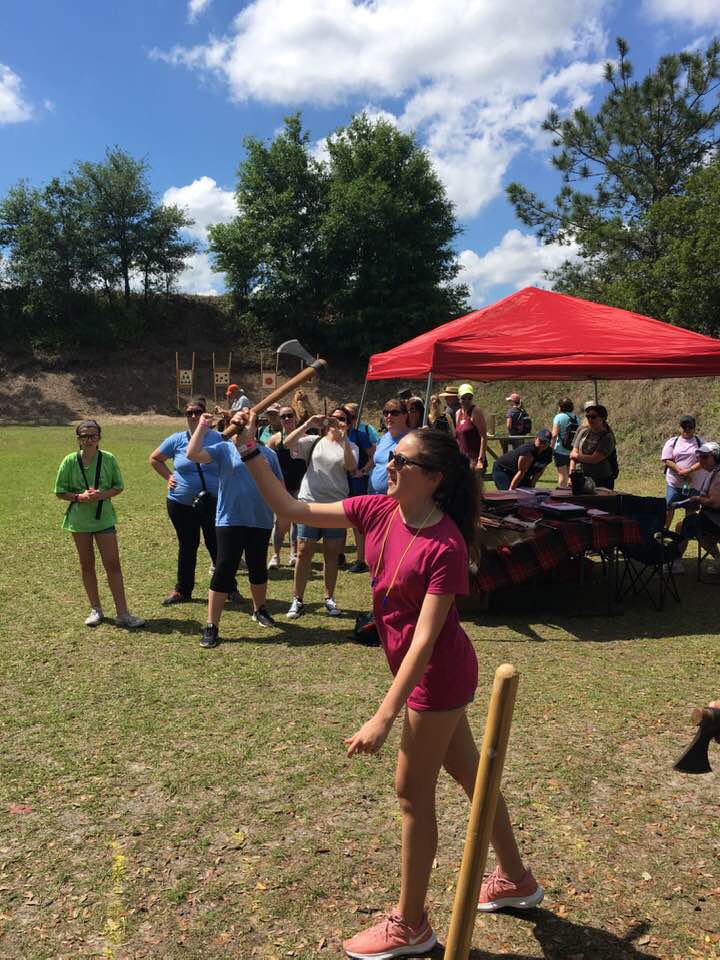 I took this shot at the start of the first wave. I never had the time to take another.
_________________
"
One of the sanest, surest, and most generous joys of life comes from being happy 
over the good fortune of others."
― Robert Heinlein
Florida Muzzleloaders Association 
Central Florida Muzzleloaders 
Green River Rifle Works Collectors Association
NMLRA