Cleaning Tips and Tricks

Online Instructions for Frontier's Anti-Rust & Patch Lube

Extra Anti-Rust Oils Added

Cleaning Tips and Tricks
When cleaning Goex, KIK, Swiss, Pyrodex, Triple7, American Pioneer, Alliant Black MZ always start with a bucket of HOT soapy water to help break up stubborn fouling and melt/remove patch/conical lube from the barrels rifling.

Soak breech end of barrel in the warm soapy water (Dawn or Murphy oil soap - Pinesol) and allow it to sit for a few minutes.
Use an old tooth brush to scrub fouling from nipple area and other areas where powder residue is present.

Remove nipple from barrel and with the correct cleaning jag, attach it to your cleaning rod and with the correct diameter cleaning patch, pump the hot soapy water up and down the bore until your patches start to show up cleaner.
3 to 4 patchs is normally a good start before its time to dump the dirty water out.

Now that you've used the hot soapy water, wash your bucket out and re-fill it with baby bath temp' warm water. No soap this time!
Flush your bore out once more with the cleaner water. Cleaning with one bucket of dirty black powder fouled water only does one thing, it flushes the bore with corrosive water from the salts left behind in the fouling. This is why I HIGHLY recommend that the black powder shooter flush TWICE!

Once your bore is fully clean from your personal inspection, run a couple dry patches down the bore, blow into the muzzle to help blow out any water remaining in the Drum/Bolster ( Thing that the nipple screws into).
Next, block the Bolster/Drum area with your finger and carefully pour Aprox. 1 to 2 table spoons worth of 91% ( Or better!) Isopropyl Alcohol down the bore and swish it around in the bolster/drum. Doing this step ensures that ALL moisture inside of that area has been removed and will not cause rust issues.

Run an alcohol patch or 2 down the bore as well, dry completely and then with a clean patch, work Frontier's Anti-Rust & Patch lube into the patch, using a little extra to make up for the excess that will squeeze out at the mouth of the muzzle. Slowly work the patch up and down the bore in 2" to 4" strokes to ensure proper coverage.

What ever metal part that gets washed with water SHOULD get washed down with the 91% Isopropyl alchol to remove ALL traces of water, before being treated with the Anti-Rust & Patch Lube.

Removing Lube Before Loading:
When using any lube, its highly important to REMOVE that lube prior to loading! Leaving lube in the bore can cause a misfire as the lube grabs the powder granules instead of them freely falling down onto the face of the breech plug and entering the bolster/drum.
Note:
With our Anti Rust & Patch Lube, you do NOT have to remove it prior to loading! After 24 hours, Our lube dries and leaves behind a soft coating to protect the metal from moisture. You can hunt on a FULLY protected bore, all the way to the powder charge!
Heating the barrel prior to applying the Anti Rust Lube is recommended as the lube will penetrate any scratches, pitting and then seal it off as it dries over night.

You can remove the lube with 91% alcohol, Gun Scrubber, Carb Cleaner or even Brake cleaner. Be careful to not get the harsher cleaners on your stock finish as they will most likely damage the finish. Best way is to spray down a cleaning patch, swab the bore a couple times and let it air dry for a few minutes before you load up.

 The gun scrubber, carb cleaner and brake cleaner will dry out the fastest. Try not to soak the breech as it will puddle and deaden the charge when its dumped down the bore.

For more detailed info on cleaning your muzzle loader, please visit the link below for our detailed step by step cleaning process!

Frontier's Anti-Rust & Patch Lube is a very easy product to work with. Simply open your jar of lube and with your fore finger, scoop up a small amount and apply to the patch. Work the lube into the patch evenly. A properly lubed patch should show the patch material evenly, not smooth and filled. HOWEVER, some shooters if you have a rough bore, maybe actually have to add a thicker amount of patch lube for better protection of the patch against the rough bore. No patch lube can fix a badly cared for bore, but its always worth a shot at bringing an old gun back to life.

When using this lube as Rust Protection after the arm has been fully cleaned, you can simply lube your clean dry patch with Frontier's Anti-Rust & Patch Lube and swab the bore, trying to avoid pulling the ramrod straight up. Allow the ramrod to spin freely as the patch is pushed and pulled up/down the bore.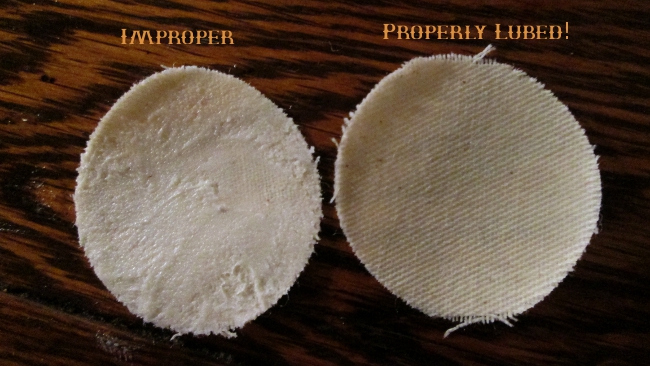 Weird colors after applying lube:
Most colored lubes "Yellow especially" can give the cleaner a false rust color the next time they go to run a dry patch down the bore, just to make sure all is ok. This is something that I experience and after a LOT of testing and scaring myself silly, yellow color based lubes just tend to leech out the pigment which then turns an orange color. If the cleaning patch goes down smoothly, its not rust! You will know rust when you hit it and that patch comes out shredded.
This is the normal color of our Ivory color patch lube. Our yellow patch lube comes out quite a bit darker after a couple days in the bore. This lube sets up again once its been applied to the bore. This color is actually the Anti-rust oils added to the lube.
WARNING!
2018 brings a NEW container that has a 58mm mouth. This new jar is NOT microwave safe. Scoop out a little lube and place it into a microwave safe container if you choose to melt it down for your desired use.