So I took the Raffle Renegade to the range today and I'm quite pleased with the result.  Barrel is a 1:48 twist, and has some minor rust next to the lands and grooves  I think it wasn't taken care of at one point, and some corrosion took hold.  Before I started, I ran a lubed jag down the bore with 0000 steel wool on it and removed a decent amount, but not all of the rust.
I set up at 25 yards, and kept the loads simple and consistent....60 grains of fffg Goex...tight weave linen patch around .015" lubed with bore butter... .535" Hornaday RB
Target#1 25 yards
The 1st two shots are the two above the black, but centered...I adjusted the rear sight a bunch of clicks and ended up with the next three shot group pretty much on target...it was looking pretty good after five shots.  Bore had some rust so I needed to swab between shots...no big deal.
Target#2 50 yards...
1st group is the high/right cluster in the black.  I made some adjustments and brought the shots into the center but still a tad high for me.  (There's actually several holes at the 12 o'clock) spot.  At that point I adjusted the rear sight and put a few shot just above the bullseye at 50 yards.  My point of aim on all the shots was the center bullseye.  I'm pretty happy with the result, and it should shoot pretty near to point of aim from 1-100 yards, great for hunting!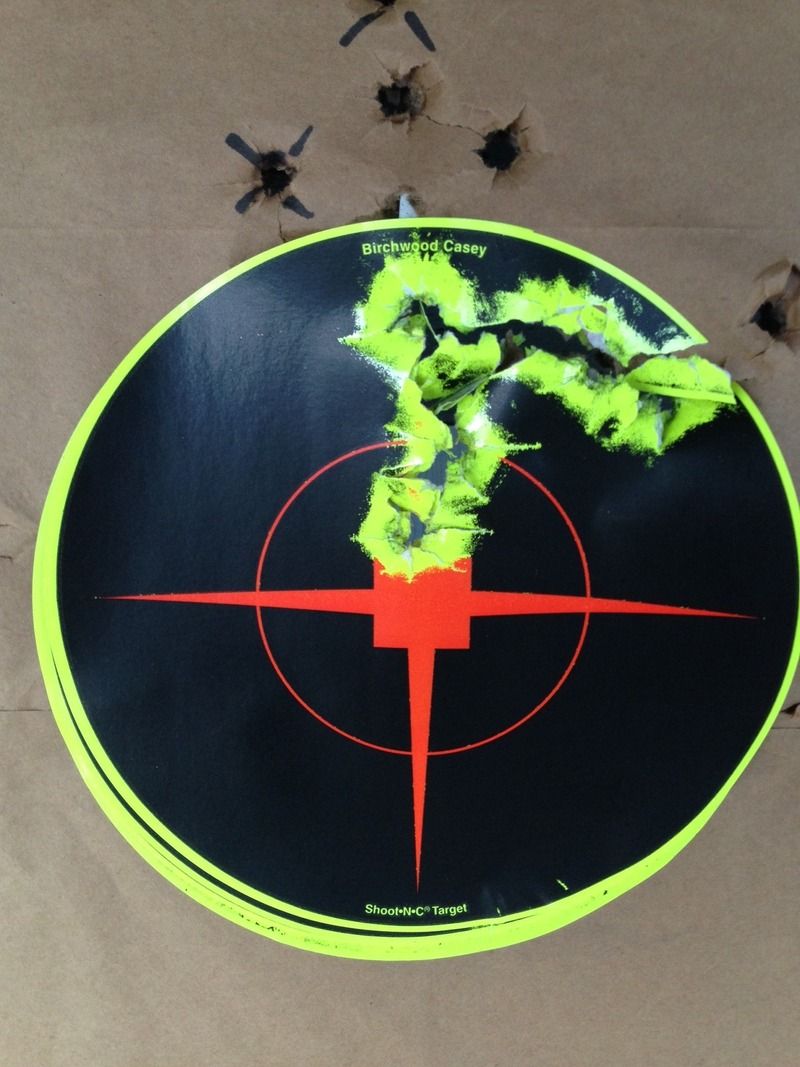 Patches...So here's what my patches looked like despite the slight rust in the bore.  I think the more I shoot it and clean it, the better it will get. I'll shoot it with this patch/ball combo for awhile and maybe bump up the powder and see what happens.  Once the bore cleans out a bit, I'll she how she shoots with conicals.
Also, zero cap failures, set trigger is really nice and breaks clean, un-set trigger is pretty darn nice too! To be honest, I'm pretty impressed with the performance of this gun, and the recoil wasn't bad at all with 60 grains of fffg...
She's a keeper...